---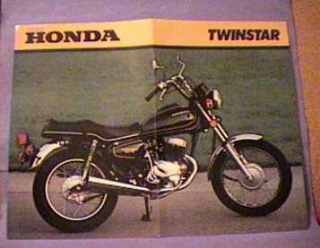 click for a higher res pic


When and how much:
Fall of 1989 to Spring of 1990. Sold to buy rv2. Paid $500.

Specs:
200cc 2 cyl air cooled 4 stroke engine.
4 speed.
Front and rear drum brakes.

Performance:
0-60: approx 8 sec
Top Speed: approx 65 mph (rpm limited)

Stories:
My first "car" wasn't really a car, but a motorcycle. Unfortunately, I don't have any pictures of it, and this is the only picture I've found on the Internet which is a scan from an ad.
I bought it off my buddy Daniel when I moved away from Fort McMurray, Alberta. (That's in Canada.)


More pictures:
None.

Links:
None. If anyone has any, mail me.





---

(c)rollingviolation.com 2002-Nov-30. Please don't use my images without giving credit. For copyright questions, please contact the webmaster.