---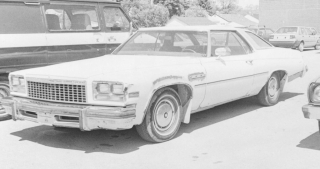 click for a higher res pic


Specs:
Buick 350 V8. 4 Barrel Quadrajet, Single Exhaust, 3 speed Auto.
155 HP @ 3600 RPM*
280 lb-ft @ 1800 RPM

White with a blue vinyl top and nice quantities of putty.

Performance:
0-60: approx 11 sec
1/4 mile: Maybe high 16's?
Top Speed: approx 115 mph (drag limited, reached.)

When and how much:
Spring and summer of 1990. Paid $300.

Stories:
My first car that was really a car. A car designed before "downsizing." Only had it for 3 months, drove the wheels off it. An overheating, gas guzzling pig. Ended up in a "minor" accident that left the telephone pole standing, but the car a couple of inches shorter. Sold it back to my uncle to use in a demo derby where he did decently until the motor grenaded.
Maybe now you can see how the whole "rolling violation" theme begins. :)

More pictures:
One - I can't remember where I found it, so if it's yours and you want credit, email me.


Links:
None. If anyone has any, email me.
Credits:
My cousin Greg took the photos for his high school photography course. Not sure if he got an A for the content, but it's the only pic I have of it.
*
depending on where you read, I've seen the HP rated at 3400, 3600 and 4000 rpm. Wouldn't rev beyond 5000 anyway.

---

(c)rollingviolation.com 2002-November-30. Please don't use my images without giving credit. For copyright questions, please contact the webmaster.