---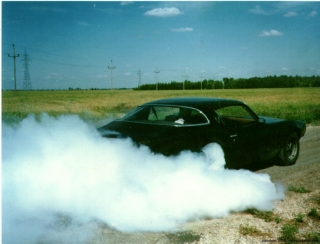 click for a higher res pic


Specs:
350 cubic inch Pontiac. *
155 hp @ 4000 rpm
295 ft-lbs @ 2400 rpm
3 speed Auto, 2.56 gearing.
Single exhaust, but the catalytic converter had long since "fallen off."
Single 2bbl. carb (stock)

Performance:
0-60: approx 9.5 sec
1/4 mile: approx 16.5 sec
Top Speed: ~123 mph, ~198 km/h

When and how much:
$300, Spring of 1991 - Spring of 1992.

Stories:
There was something wrong with this car. In 7000 miles, I went through about 10 back tires. :)
The pictures don't show it, but this thing was a real bondo wagon - it wasn't even a "50" car, more like a "100" car. (100 feet away at 100 mph it looked good.)
The Pontiac 350 has always played "second fiddle" to the 400, and they aren't usually hopped up. They have a very small bore, and this one would rev to 5 grand, I suspect the torque curve fell like a rock around 4200 rpm. As can be seen in the pictures, it had tons of that good-ole Pontiac tire melting torque and a great midrange.
It was quick off the line, and even with 2:56 gears it could get rubber into second - not bad for a 16 year old "beater" Firebird with a teeny little 2 barrel carb.
For top speed, I'm declining to say how I know, but it did pull to 4000+ rpm in high gear more than once.
'twas a fun car, but finances, school, parking and rust forced me to get rid of it. The good news comes in the later Rolling Violations - the Firebird is back, this time to stay.

More pictures: (click 'em for bigger versions)


In this one, you'll notice the ugly whitewalls and the lack of a complete nose.


You can see some of the bondo cracks in the door... and quarter panels with rubber goo on them.
Pictures of other 70's Firebirds:
(unless otherwise noted, these are from the alt.binaries.pictures.autos newsgroup, and likely come from a fellow named Max. I believe his email is MagisterMax at telus.net, but he'd most likely be found uploading cool pics to the newsgroup.)
A nice 1970 TA.


A gorgeous red 73 TA. Might be a Super Duty. Love the chicken.


A green 74 Firebird Formula Super Duty.


Another 75 TA (this one is small) (credit: canada.trader.com)








A nice series of a 75 TA. This is a BIG page, so it may take some time to load all the images.
Once again - if these are your pics, or your car, please email me and I'll make sure you get credit or link to your original picture.
Links:
www.f-body.org, they have a bunch of links and FAQs for F-bodies. (Camaros and Firebirds)
.
mailing lists: f-body classic
newsgroup: alt.autos.camaro.firebird
Credits:
My good buddy Jason took the burnout photos, then helped me change the tire after.
Notes:
For those who don't know, there was a 350 Cubic Inch Pontiac V8, not just Chevy small blocks in Firebirds. It's also been referred to as a "big block 350" or "blue block" (which refers to the color of the paint.) The confusion was even more prevalent in Canada, as GM had long since used Chevy engines in Pontiacs since the 60's. Something like a 396 Super Duty Beaumont is unique to Canada. If you're still confused, a 350 Pontiac has a Bore and stroke of 3.8762" and 3.75". A 400 Pontiac has a bore of 4.120" and a stroke of 3.750". The "classic" 350 Chevy was 4.00" x 3.48". In other words, the 350 Pontiac has about as much in common with a Chevy 350 as it does with a Ford 351.


---

(c)rollingviolation.com 2003-November-2. Please don't use my images without giving credit. For copyright questions, please contact the webmaster.