---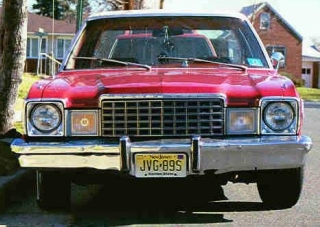 click for a higher res pic
picture from www.allpar.com

Specs:
225 cubic inch (3.7L) Slant 6
1 bbl. Carb.
100 hp @ 3600 rpm
170 ft-lbs @ 1600 rpm
3 speed torqueflite transmission.
Performance:
0-60: yes. Maybe 14 seconds.
1/4 mile: yes.
Top Speed: 140 km verified, maybe 145-150 downhill. Them slant 6's don't rev very high.
When and how much:
$125. October 1993 to January 1994. Traded in on RV6.
Stories:
Once again, I don't have a picture of this car. I didn't have it long enough to take a picture. It started making a noise in November that sounded ominous, almost like a scraping sound in the transmission. It was evenually diagnosed as a flexplate problem when it sheared all the bolts off, thus preventing the engine from turning anymore. I ended up gutting the car for parts, and traded $60 and the shell for RV6.
This one WAS a true rolling violation. Some of it's finer points include:
Rust that was painted over with house paint. Brush strokes add a nice texture to the flat black finish.
Dents in unique locations.
Mismatched tires
Super reliable. This thing ranks as probably the most unreliable car I've owned. In three months I had to fix/replace:
Battery
Alternator (was free from Elliot's $1 Van - that'll be another story)
Starter (Elliot's Van again)
Headlight switch. It had been "fixed" before, and they had made it so the park lights were spliced in with the headlights. The park light only position was "dead." It started to smoke one night, so I was forced to drive a black car home at midnight with no lights. The switch and most of the connectors had melted together. Yummy.
Tires. I was broke and cheap, so on an "all you can carry" day at the scrap yard, I had Elliot haul me out some better tires, including some nice snow tires for the back. I also learned that 60's Dodges have left hand threads on the driver's side. I learned it after snapping a couple of the studs off. (Hey, I'm a GM guy.) I also learned you can mount car tires without a machine, but it's a hell of a lot of work. You use a pickup truck and a bumper jack to break the bead, then you spend the rest of the afternoon taking the tire off and concluding that this is a stupid idea and maybe I'll just pay them $5 to mount them next time.
I purchased it as a 76, but was told it was a 78. After checking the VIN, I found it was a 78. The insurance company never noticed, and the car only lasted another month so I never bothered trying to explain it to them. (Remember, this was a $125 car.)

Other than that, there's not much to say - I only put about 3000 km on it before the tranny fragged.

More pictures:
See the links section. Weirdly enough, there aren't many web sites devoted to Volares. I wonder why?

Links:
www.allpar.com - they provided me with the pictures I don't have of this Volare. I borrowed Ronnie Jerome's picture.

Credits:
I bought this one off one another of my uncles. That makes two cars from relatives. That's probably two too many.





---

(c)rollingviolation.com 2002-November-30. Please don't use my images without giving credit. For copyright questions, please contact the webmaster.