---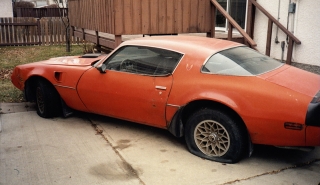 click for a higher res pic
click for a thumbnail index page of all the pictures of rv11
Stock Specs:
Pontiac 301 (4.9L) V8
4 Barrel Carburetor
155 hp @ 4400 rpm *
240 ft-lbs @ 2000 rpm
3 Speed TH350 Automatic, 3:08 gears (verify)
Stock Performance:
0-60: ~12 seconds.
1/4 mile: ~17 seconds
Top Speed: ~110 mph

(this was above average for 1980!)
Current Specs:
No engine, no transmission. :)
Current Performance:
0-60: as fast as the tow vehicle
Intro:
The "F-Body", as it known within GM and it's followers, was originally introduced for the 1967 model year. The car was revamped and this body style came out in 1970. It lasted until 1981, when the "downsized" F-Body came out in 1982. The last generation of F-Body was built from 1993 to 2002.
Modifications and Improvements:
All the ugly interior wood trim has been torched. :)

2000: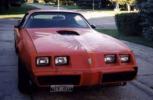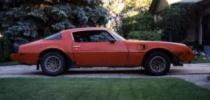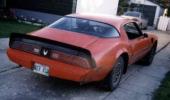 In 2000, I decided to tackle the leaking gas tank. The tank was replaced with a new one, and the bottom of the trunk floor was rustproofed with POR-15. POR-15 is probably best described as a cross between rust paint, krazy glue, and bondo. I suspect I'll be ordering the stuff by the caseload as work on this car proceeds.
After replacing the gas tank, the car was no longer a fire hazard, but the 301 was ill. Valve float at 3500 rpm is never a good thing...
In the fall of 2000, Darren helped me gut the interior. In the pics below, you'll be able to see some of the rust I will eventually have to deal with.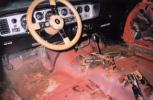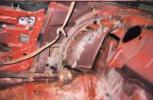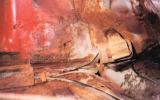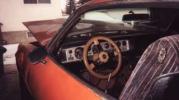 1999:
Purchased in the spring of 1999, this "slightly" used Trans Am had seen better days. It was now being used as a WINTER car. In Manitoba. On crappy tires. I was unfazed, as the car has potential. It's mostly original paint, which means the quarter panels aren't (hopefully) full of putty. The 301 is a boat anchor, and the interior is gross. The highlights are the wood door pulls and wood console. Wait until I get THOSE pictures up.
After getting the car home, I discovered it had a teeny gas tank leak. Like about the size of a garden hose on full blast. Oops. I guess that's why it had $1.00 in gas when I test drove it.
1999 was a busy year - I bought a house, so the Trans Am became a patio queen for most of the year.

<back to the top>
Credits/Disclaimers:
Once again, there are issues with the HP ratings. I've seen 140 and 150 and 155 hp for the 301, depending if it was E/C or base or ??? It's all irrelevant, as the engine is sitting under a tarp and won't be going back in.
Check back soon for the continuing saga of RV11, now with no front subframe...

---

(c)rollingviolation.com 2002-April-18. Please don't use my images without giving credit. For copyright questions, please contact the webmaster.