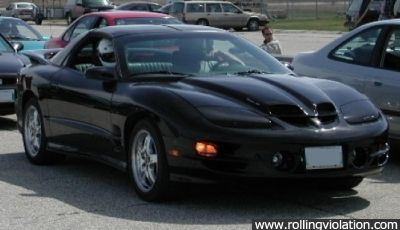 click for a higher res pic
[ Specs | Performance | Intro | Just Cruising | Burnouts | Racing | Drag Racing | AutoX | Modifications | Broken Stuff | Picture Index ]
Stock Specs:
GM LS1 V8 (346 ci or 5.7L)
325 hp @ 5200 rpm
350 ft-lbs @ 4000 rpm
6 speed manual, 3.42 gears
Goodyear Eagle F1 275/40-17 tires
Weight: 3550 pounds (full tank)
Current Specs:
approx 335 hp.
approx 425 hp on Nitrous
BF Goodrich Drag Radials
Race Weight: ~3700 pounds with driver and 1/4 tank
Quarter Mile Times
Date
60 foot
E.T.
Notes
2003-Sept
1.915
13.116 @ 105.246
Lid, K&N Filter, Drag Radials. (no NOS)
2003-August
1.739
12.185 @ 111.816
100 HP Nitrous, lid, K&N Filter, good cooldown.
2003-August
1.854
12.364 @ 112.709
75 HP Nitrous, good cooldown.
2003-August
1.929
12.53 @ 111.966
75 HP Nitrous, intake lid.
2003-June
1.95
13.232 @ 103.836
as below, good cooldown, no air cleaner.
2003-June
1.974
13.367 @ 103.376
BF Drag Radials, very hot day.
2002-Sept
?
13.48
Took trophy class eliminations!
2002-June
2.139
13.408 @ 104.044 mph
one less intake baffle, disconnect front sway bar.
2001-Sept
2.122
13.499 @ 103.547 mph
2001-Sept
2.231
13.604 @ 104.256 mph
Shift at 5500, less than 1/3 tank of gas.
2001-July
2.163
13.826 @ 102.126
First pass for car and driver. Stock, 4000km.

F-Body Intro:

The Fourth (and last) generation of F-Body (Camaro/Firebird) debuted in 1993. Sporting sexy new styling and more power underhood, the CamBird rocketed around basically unchanged until 1998, when the noses were restyled and even more power was to be had with the installation of the new LS1 V8.
If 305 horses weren't enough, you could add more power to your 'bird through the WS6 (Ram Air) package or the Firehawk package done by SLP. Camaro lovers could also get the SS package, also done by SLP.
In it's infinite wisdom, GM decided to kill the F-Body due to poor sales instead of investing the money in a 21st century platform. I'm also hoping they make me retract that statement in the future... but they better not make a lame FWD version.

About this car:
This car happened almost by accident. I had always wanted a new Trans Am (see rv4 or rv11) but was trying to save money for a new 2003 Corvette. In early 2001 we happened to drive by Melnick Motors and saw a Firehawk on the showroom floor. After a quick session of drooling, I was ready to buy it except it didn't have T-Tops. Also, I didn't have a down payment or anything like that for a $40k (CDN) 'Bird.
Not long after, the girlfriend (now the wife) told me SHE was going to buy a new Ram Air Trans Am. Not just a V6 Firebird, but a Ram Air! Not buying this at all, I gave her the brush-off with "sure you are" and "you can't afford one" type of comments. Somehow, this hurt her feelings? (women...) So, after a couple of conversations gauging her seriousness, I told her to call the bank and when we got approved for a loan we'd go get one. (Those of you who know Nicole realize just how dangerous of a move this could be.) Long story short - May 2, 2001 we took delivery of the ultimate Trans Am. Black, T-Tops, 6 speed manual, WS6 (Ram Air) package, and no wussy traction control. All I wish it had was the CD Changer and no A/C (I like to race... A/C slows you down.)
---
Delivery Pics: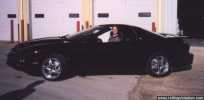 ---
Wedding and Honeymoon: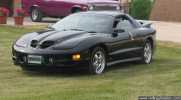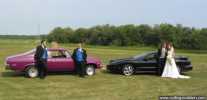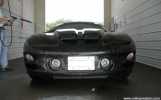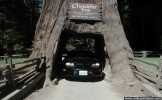 2002: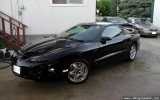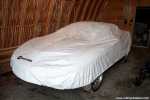 Clean car shots from 2001: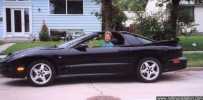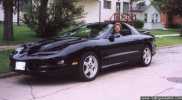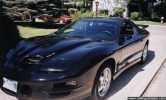 ---
Burnouts:
I can't help it. I'm a burnout junkie. There's something like smoking the tires until you can't see for blocks around. It's even better when you're not supposed to be doing it - but because I don't have any desires to get into extra trouble with the cops, here's some legal burnout shots. The first batch is taken from the Crusin' Downtown car show in 2002. Both in 2002 and 2003 I almost won - first prize is a set of Drag Radials! Next year I'm going to go naked if necessary. (Or maybe I'll find a good looking female who can be naked...)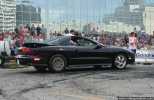 ---
Racing:


This is the part of the website where some people (like GM) may not approve... you have been warned!

Staged shots only... the car is still under warranty. :)



Racing School: What do you do with a 325 HP car that just screams "too fast!"? You take it to racing school of course. The Winnipeg Sports Car Club has an annual driving/racing school out at Gimli Motorsports Park. For a small fee you get a day's worth of classroom training, and another day slaloming, brake testing, and some hotlaps on the road course. You also get an instructor riding shotgun who'll help you clip those apexes right (I learned I was always trying to apex early...) or who'll be holding on for dear life when you get sideways going into turn one at 190+ km/h* (115 mph).

*How do I know how fast I was going? Because I was stupidly watching the speedo instead of setting up for the turn.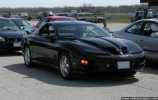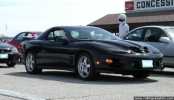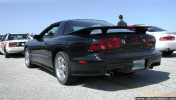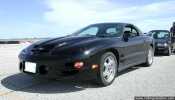 AutoX:
Winnipeg is also home to a recently revitilized autocross scene. &nbspWSCC and www.wpg-autox.org. It's a lot of fun, and I usually place mid pack, which sucks. :( It's tricky to AutoX a car like the 'Bird, it's kinda wide for this, and many of the runs are done in only one gear. With stickier tires and some suspension tweaks I could do better... plus if I wasn't paranoid about splattering cones and scratching up the paint I'd probably be faster.


Drag Racing:

This seems to be the "natural home" for RV13. First time I went I was in the 13.8 second range and was having a blast, but got totally waxed in the eliminations by running waaay off my dialin.(link to bracket racing 101)

After learning to launch a lot better, I went back in September of 2001 and ripped of a 13.499 at 103.5 mph. Unfortunately, this was on a 13.70 dialin, so once again I was headed home after the first round, but losing by going too fast is ok by me. This is all stock at this point. As soon as I dig them up, I'll be posting my best time slip.

For those who don't understand how I could lose by going too fast, checkout Drag Racing 101. Basically - in bracket racing the slower car is given a head start based on how fast you say the car will go. If you go faster than you say you will, you lose. But, if you go much slower than you say you will, you'll probably lose because the other guy will get to the end first, so you need to be as close as you can to your dial-in. Good run: 13.53 on a 13.50 dialin. Bad runs: 13.48 on a 13.50 dialin (breakout) or a 13.65 on a 13.50 dialin (the other guy probably won.)

Go to the performance section to see the timeslips.


---
Modifications:
None to report yet. Lots planned, especially for when the warranty expires.


---
Mechanic stories and pictures here:
2003:

I'm about ready to get the car repainted. Unfortunately, it's because people can't control themselves. First it's their dog scratching the paint, then some jackoff did the shopping cart trick into the passenger door.

I guess the car is old enough to start suffering from the "standard" problems that end up plaguing all F-Bodies. The passenger side window motor assembly started to fail - THUNK THUNK THUNK. Replaced under warranty by Melnick's.

More tire woes. They are definitely bald and will be replaced in spring of 2004, but did I really need to find a small cut in one tire at the dragstrip? <sigh>


2002:

Broke the clutch pedal return spring. Weird thing - was not even driving fast when it let go. Sucker just snapped in half. Apparently was the subject of a TSB. (Technical Service Bulletin - ALLDATA can let you see the basic info for free.)

Tire woes - ran over a chunk of "boxcutter" type knife and ended up with a flat. Local Goodyear $dealer$ only wanted $500 CDN a tire - about double that of TireRack's pricing. Ended up getting it patched - the tires are starting to get worn out anyway.


2001:


So far, the only thing that's broken on the car has been the differential. (I know, the way I drive - what a surprise...) Actually, it didn't break, it just got noisy. Brought it into the dealer, and they replaced a leaking pinion seal and concluded the clunk was "normal." Not all was bad, because they showed and explained what the noise was and why it was not a problem (yet.)

The diff on the WS6 is a Torsen style that doesn't use clutches, but uses gears. A bit noisier, but stronger. IIRC, the maximum clearance was 0.009" and my diff is right on the line. There is a good chance it'll get worse and maybe need repairing under warranty, but in the meantime it's nothing to worry about and will allow the diff to run cooler. To make sure the diff is still working ok, I "test" the limited-slip functionality of it as often as I can. Besides, when I blow it up I can get 4.10 gears. (or at least until the wife reads this...)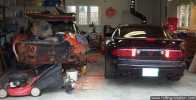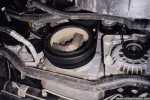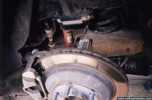 ---
Other 1993-2002 Firebird pictures
F-Body Wild Time Video

---
---

(c)rollingviolation.com 2004-March-19. Please don't use my images without giving credit. For copyright questions, please contact the webmaster.