Rolling Violation #103

1972 Chevrolet Nova
---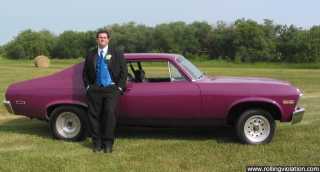 click for a higher res pic
click for an index page of all the pictures of rv103
Stock Specs:
Chevrolet Straight 6
1 Barrel Carburetor
Not many HP (around 110)
Not much torque either
2 Speed Powerglide Automatic, unknown gears
Stock Performance:
0-60: 15+ seconds?
1/4 mile: 20+ seconds?
Top Speed: ~80 mph
Current Specs:
Chevrolet 350 V8
4 Barrel Holley 600 Carburetor
Edelbrock Performer RPM
Mallory Billet HEI
MSD Digital 6 Plus
3 Speed TH350
Line Locks (B&M)
Estimated: 275 hp
Estimated: 350 ft-lbs
Current Performance:
0-60: ~7.2 seconds?
1/4 mile: 15.274 seconds @ 88.927 mph
Top Speed: ~120 mph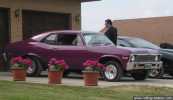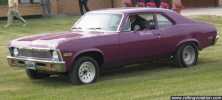 Intro:
Purchased by Darren in the early 90's, this was to become his keeper car. Ok, so Darren keeps all his cars, but this one is his "toy" car. This is the one that gets all the time, money and attention.
Originally equipped with a straight 6 and a two speed transmission, this thing was no rocket. The color scheme was also rather interesting - gold/yellow exterior and a green interior! Lots of drugs in the 70's I guess.
Modifications:
Darren has done a LOT to this car, so I'm going to list the major modifications and work done:
Powertrain:
The original engine has been chucked for a lightly built up 350 Chevy. Cam, headers, rebuilt heads, and in 2002 Darren had enough of the Quadrabog and installed a Holley 600 carb. The engine was originally from a 1976 Chevelle (RV105.) Darren and his dad had to fabricate motor mounts to get the engine to fit properly. I used to think that was weird because the Nova came with a V8, but Car Craft's project SuperNova had the same issues with the V8 not retrofitting easily where the 6 was.
The Powerglide was replaced with a TH350, then when it was blown up it was replaced with another and another and another and another. The last one got a professional overhaul, a shift kit and a slightly higher than stock stall speed torque converter installed.
Update:
Darren has since installed an Edelbrock Performer RPM intake, line locks and for his 30th birthday we got him a new Mallory HEI distributor. (Did I mention his Accell "SuperCoil" smoked about a week previous while he was on the highway three hours from home?
Engine upgrades 2003:



Pics from April 2002: click'em for blowups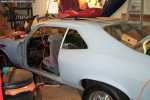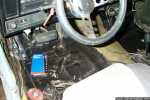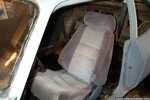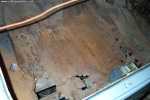 The interior has a new floor, new seats (from an 88 Grand Am), a floor shift, a CD player, and new carpet. It's still noisy, but a musclecar should be.

Rust has always been a big enemy of car lovers, and Darren's Nova was no exception. It's had more bodywork than Michael Jackson's nose. New quarter panels, new flooring, much sanding and prep work. Darren finally was able to lay to rest all the primer jokes when he got the car painted this summer. Looks pretty wicked! Just don't call it pink - it's 1990 Chrysler Magenta!



Pics from July 2002: click'em for blowups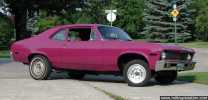 Future plans include better gearing and a good posi, remote doors, power windows and more power!

We used to bug Darren he drove like Grandma Moses. Not this year - burnouts galore! He took it drag racing and even entered a burnout contest! He was going to put it on the chassis dyno at the local car show, but it didn't arrive in time.



Gratuitious Burnout pics from Summer 2002: click'em for blowups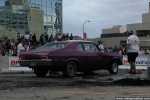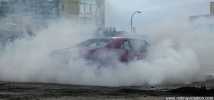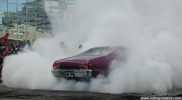 Racing: 15.65@84 mph.

2003: Darren kept working at it, and is now solidly in the 15's. Seems the problem with the fuel pump was probably his coil in the process of failing. Next up: 4.11 gears?

2002: Unfortunately not the 12 second times Darren wanted, but a respectable start after only five passes. His first run was a tire spinning 17.5, and he managed to get it down to a 16.5 by learning to drive the car against the clock. Remember, this was his FIRST time drag racing. Unfortunately he was eliminated in the first round by running a 16.15 on a 16.45 dial-in. I believe that with some more driver tweaking, 15's are possible. According to Darren, it feels like the car "runs out of gas at 4000 rpm in second," so we're thinking about it starving for fuel. It is the stock fuel pump after all. (oops!) Guess what's on next summer's todo list - I think the car has a lot of potential still unused - 13's will happen in 2003 with enough fuel and enough traction.



Summer 2002 Drag Racing: click'em for blowups




The most amazing thing: In april of 2002, the Nova hadn't been driven for almost 2 years. It was primer, had the driver's door off, a big hole where there used to be a driver's side floor, a trunk floor that was "sorta" there, no seats or carpet. In July of 2002, Darren drove it at my wedding. He didn't even have to get a new girlfriend!

Note to Darren: Email me with corrections and I'll update the page. Email me more pictures and I'll add them, probably even this year. :)




(c)rollingviolation.com 2002-Nov-28. Please don't use my images without giving credit. For copyright questions, please contact the webmaster.