---

Click here to go back to the regular rv9 page.

Turning the beast into a demo car:


Start by cleaning off all the crap off the car from sitting for years. Then you'll need to gut the interior, remove all the glass and trim. Drop the gas tank. Cut some holes in the hood. Affix chains to the doors and the trunk. Mount a door bar (not shown) and a screen over the windshield. Drink plenty of beer.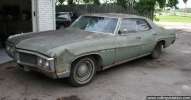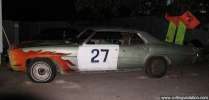 If you're wondering where the shots are of the car actually being smashed up, well... you'll have to wait a bit longer - check the schedule to see when the mighty Buick rolls again for the last time.




---

(c)rollingviolation.com 2004-March-15. Please don't use my images without giving credit. For copyright questions, please contact the webmaster.